Alumna Ruby Chen Designs and Constructs Mobile Coop for UC Davis Pasture Poultry Farm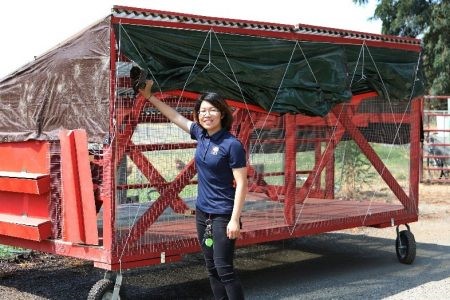 Ruby Chen is a recent graduate of the UC Davis civil and environmental engineering program.
During her last two years of school, Ruby served as the "lead engineer" at the UC Davis Pasture Poultry Farm where she fixed electric fences, installed solar panels, repaired a mobile coop and dozens of other assorted hands-on engineering duties.
But where Ruby really excelled was her design and construction of the Farm's newest mobile coop.
In the continuing quest for the best possible mobile coop – that is, one that is strong, lightweight, inexpensive, and sustainable – Ruby and her civil engineering team members, Lj Tullo and Torynne Dillon, designed a new mobile coop as part of their senior year design experience.
Ruby then went on to build the coop this past summer. And what a coop it turned out to be!
Primary Category
Tags