CEE Students Recognized at UC Davis 2019 Outstanding Senior Awards
Two CEE students were honored at the annual UC Davis Outstanding Senior Awards May 13.
Civil Engineering major Igor Kotsyubuk and Environmental Engineering major Jacob Newman were selected by the department to receive awards in recognition of their contributions to CEE's "intellectual environments, whether through involvement in a research group or creative production, significant contributions to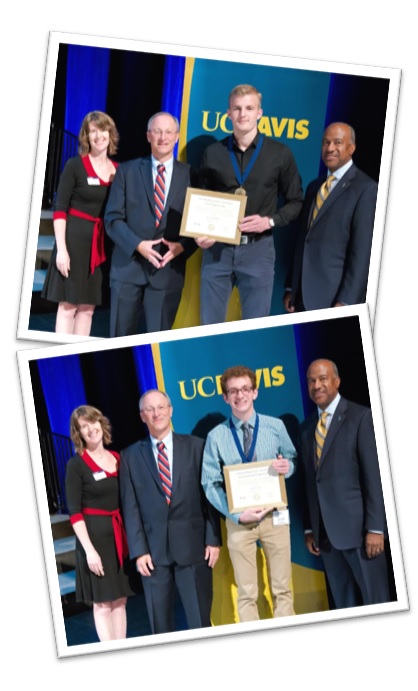 classroom discussion, leadership in student groups committed to the advancement of learning, or other intellectual pursuits with faculty and fellow students."
"Igor is a brilliant, mature, dedicated student (17 A+, 3.95 GPA) who is an excellent role model in classes and as an UC Davis ambassador via his off-campus internships. Since his first year, the faculty have been positively impressed by his sincere interest for learning, his curiosity about problems and solutions that exceed what is required by normal coursework, and his dedication to his studies in spite of working outside the university. He often is observed helping his fellow students by explaining difficult, mathematically rigorous material. In addition to his exceptional grades and internships, he generously contributes to his community via outreach activities."

"Jacob is an extraordinary campus citizen, excelling in classes (21 A+, 3.94 GPA), and always going beyond expectations. He also generously and competently served as an officer for the American Society of Civil Engineers (ASCE), the American Water Works Association (AWWA), Chi Epsilon, and Challah for Hunger chapters. Jacob led a research project to implement Arduino-controlled water quality sensors in woodchip bioreactors, which he then extended into a classroom setting. He also led a team producing a children's book on the Clean Air Act, which was entertaining, aesthetically pleasing, and full of accessible information. Jacob's intellect, practicality, leadership, and kindness demonstrate traits hoped for in a student, engineer, and global citizen."
"You have gone beyond the academic challenges placed in front of you to think critically, question established knowledge, and to consistently raise the level of thinking and dialogue in class and with each faculty member you have encountered," said UC Davis Vice Provost and Dean for Undergraduate Education Carolyn Thomas. "You represent the best of what we at UC Davis stand for: commitment to your intellectual community and world-class academic performance."
Thomas, UC Davis Chancellor Gary May, Provost Ralph Hexter and Director of International and Academic English Dawn Takaoglu served as awards presenters at the formal Mondavi Center event, where graduating seniors representing more than 80 majors were selected for recognition by their departments at the ceremony. 
Congratulations, Igor and Jacob!
Primary Category
Tags