January 2023 Graduate Student Spotlight: Samantha Sharp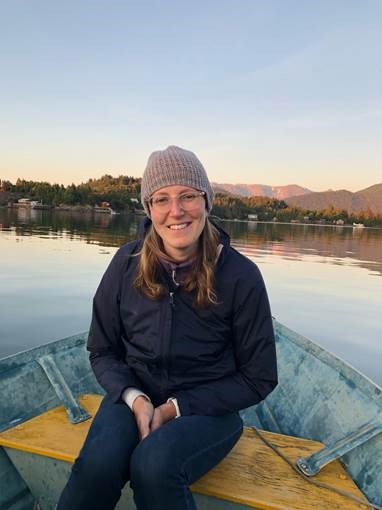 Samantha Sharp (she/her) is a fifth-year Ph.D. Student in Civil and Environmental Engineering with a focus on Water Resource Engineering. 
In this Graduate Student Spotlight, we'll learn more about Samantha's journey and her research at UC Davis. 
What is your research about and why is it important?
My research area is optical limnology. Limnology is the study of inland waters, specifically freshwater lakes in my case and the "optical" descriptor is because I use optical measurements, specifically satellite-based remote sensing for my research. My research focuses on understanding cyanobacteria blooms in inland waters using remote sensing tools. Cyanobacteria blooms are increasing in frequency and magnitude globally and have great social and ecological impacts. Remote sensing is a useful tool because satellites can acquire global, high coverage, repeat measurements at a relatively low cost to traditional in lake sampling techniques. My current research is focused on new science using hyperspectral remote sensing data to understand more about cyanobacteria blooms from space. This research will support future satellite missions and the tools and data products that stakeholders can use from those satellite missions.
Why did you choose UC Davis to pursue your degree?
I was excited about the field-based research opportunities in Water Resource Engineering through the Center for Watershed Science and the Tahoe Environmental Research Center.
How would you describe your graduate life journey so far?
I started as an M.S. Plan I student. In my second year, I applied for a NASA graduate fellowship but acknowledged it was a long shot and continued to focus on completing my M.S. Thesis. That same year the pandemic started and I was able to overcome significant challenges true to everyone at the time and continue my work on my thesis. I was also interviewing remotely for jobs in the Spring of 2020 and accepted a position at a federal agency. I then found out in the Summer of 2020 that I was awarded a NASA graduate fellowship. This was an amazing opportunity and I made the hard decision to turn down the job offer and continue with graduate school to complete my Ph.D. There were significant challenges with my Ph.D. research both from the pandemic and also the impacts of wildfires on the fieldwork components of my work. Despite these, I was successful at passing my Qualifying Examination, earning an M.S. Plan II degree, and completing the fieldwork portion of my Ph.D. research. I am now toward the end of my Ph.D. journey and am working on analyzing data and writing my dissertation in addition to a number of collaborative side projects.
What has been your favorite part of graduate school?
I really love learning new things and love all the opportunities to explore new fields in graduate school. I took an undergraduate remote sensing class in the winter quarter of my 1st year of graduate school and learned about a new tool that I had no previous knowledge or experience. What I learned in that class really blew my mind and opened up a whole world of research that has completely altered the trajectory of my career.
What do you think is the greatest challenge that graduate students face and how have you been able to address it?
The greatest challenge of graduate school for me and I think a lot of graduate students is funding and negotiating the professor-graduate student relationship surrounding financial support. I was very fortunate to secure external funding to support my Ph.D. research which has afforded me freedom in my research and many amazing opportunities. Unfortunately, this is not the story for a lot of students and it is my sincere hope that graduate students will have more financial security in the future. This will open up this opportunity to a lot of folks who may not have other sources of financing, which really limits this path to exclude those without significant privilege.
What is your plan after graduation?
I'm hoping to stay in research when I finish graduate school and hope to post-doc at NASA or USGS.
What advice do you have for current and prospective CEE graduate students?
Find something that you find interesting and exciting and reach out to professors in that area early in the application process. A lot of prospective graduate students (myself included) don't know to do this, which makes finding a lab you wish to join and securing funding much more difficult. The thing you find interesting and exciting doesn't necessarily have to be your final research topic, but it will help start the conversation with your potential advisor. I also recommend that every student participating in research apply for fellowship opportunities. These are generally very competitive but even if you aren't successful, the research proposal you write for the application will help you organize your thoughts and ideas for your research, which will be hugely beneficial when you write your M.S. Thesis or your Ph.D. prospectus for your QE.
What would you be doing if you weren't in graduate school now?
I started graduate school after working as a professional engineer for several years, so I imagine I would be working in an area similar to my last job. I would likely be working as a design engineer in ecological engineering and restoration.
How do you unwind after work?
I play the viola in several chamber music groups and symphonies. I can find this part of my life to be equally demanding and I am sometimes stressed to go to a rehearsal but always feel energized afterward, I think because I am using a different part of my brain.
What is your favorite destination for a vacation?
Salmon Lake, which is a small alpine lake in the Sierras that I go to every summer with my family.

 
Primary Category
Tags