December 2022 Graduate Student Spotlight: Sampat Kedarisetty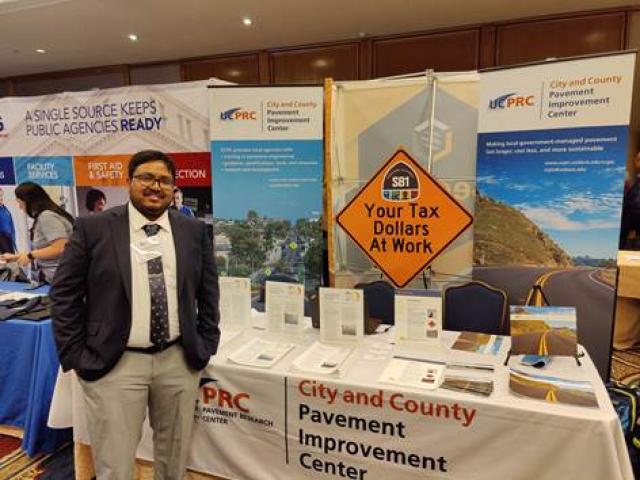 Sampat Kedarisetty (he/him) is a sixth-year Ph.D. student in Civil and Environmental Engineering with a focus on Pavement Management.
In this Graduate Student Spotlight, we'll learn more about Sampat's journey and his research at UC Davis. 
Tell us about yourself.
I'm originally from India and came to UC Davis for my Ph.D. I'm also newly married to the love of my life who I met here and am a cat-dad.
What is your research about and why is it important?
My research is focused on pavement management systems for local governments. I'm trying to integrate engineering knowledge with economics. This is to determine the best way to spend taxpayer road construction and management dollars at the city and county levels. My research enables the city and county agencies to maximize their financial resources in a system that makes them responsible for about three-quarters of all roads, while not providing them with enough money to accomplish that.
Why did you choose UC Davis to pursue your degree?
UC Davis has a unique program for pavement engineering in its University of California Pavement Research Center (UC PRC}. My advisor, Prof. John Harvey, is well known in the academic world as a top tier pavement engineering researcher. UCPRC was the icing on the cake. It has world class researchers collaborating on real world problems focusing on research, development, and implementation. That is very unusual in the academic world and one of the complaints I had before starting my PhD was that research seemed to stop at publishing papers and wasn't being seen all the way through to have an impact in everyday life. Prof. Harvey and UCPRC provided me with tools and opportunities to work on a wide range of projects with clear deliverables, all geared towards real world impact and improving the system and materials we use.
Plus I like the California sun. I'm from India so California weather is my favorite.
How would you describe your graduate life journey so far?
I'd say it's been an adventure. I moved half a world away and started my life here with the 2 suitcases and about $1000 I came here with. I have worked on and thought about things I never would have otherwise. Met incredible researchers, scientists, academics, and friends from different disciplines with remarkable drive to make life better for everyone. I also met my now-wife during the course of my Ph.D. and found a whole new family here. Being a graduate student has also made me expand my worldview both in and outside of academia. It has definitely rounded me out as a person.
What has been your favorite part of graduate school?
Learning! So. Much. To. Learn. Everywhere. UC Davis has awesome resources for students and amazing faculty and services. But going to classes, seminars, and conferences to hear experts in their respective fields talk about their subjects has been the absolute highlight of my graduate school. I'm a curious person by nature and love to understand how things work. Grad school definitely slaked my thirst for curiosity.
What do you think is the greatest challenge that graduate students face and how have you been able to address it?
I think maintaining mental health is the greatest challenge that graduate students face. These programs are rigorous in their demands and can sometimes pigeonhole you into the niche of one or the other subject, which makes you feel alone. Being surrounded by lots of smart people can also result in experiencing impostor syndrome and you begin to question if you should even be here. Therapy has been my biggest ally in this. Walking outside every day and finding something that I enjoy doing in my downtime has also helped a lot.
What is your plan after graduation?
I want to work for the industry or any public agency. I have seen the academic side of things and I'm curious about the other side of the equation, the clients, so to speak. I eventually want to circle back to teaching in some capacity and I think the real-world experience would be valuable to that.
What advice do you have for current and prospective CEE graduate students?
For prospective CEE graduate students, I'd say if you're curious and indefatigable and like to work on cross-disciplinary projects in a small town with excellent weather and great people, UC Davis is the place to be. Come with an open mind and explore what this amazing place has to offer. You may be surprised to find your new passion For current graduate students, I'm here to say that you're absolutely not alone. From the professors to researchers to your peers, everyone has either gone through this journey or is going through it right now. Finding your people is key. It can be your peers in your grad group, it can be friends you made at a game, it can be your better halves, or it may be your family. Having people to help you, people you can rely on, and people who love you, makes this whole process and this program go a lot easier.
What would you be doing if you weren't in graduate school now?
Probably back in India working for a civil engineering or a construction company.
How do you unwind after work?
Video games and fiction books are my main avenue. I'm a huge fan of fantasy and sci-fi books.
What is your favorite destination for a vacation?
I really want to go to Europe some time. I'm a history aficionado and I just want to spend days looking through historic sites and museums.
Primary Category
Tags