STEM Learning a 'SMASH' at UC Davis
High-school students engineer real-world success with unique engagement program

What do you get when dozens of high-school students come together in a supportive, engaging and inclusive university environment?
You get ideas. Big ones.
And that's the idea behind SMASH, the Summer Math and Science Honors Academy.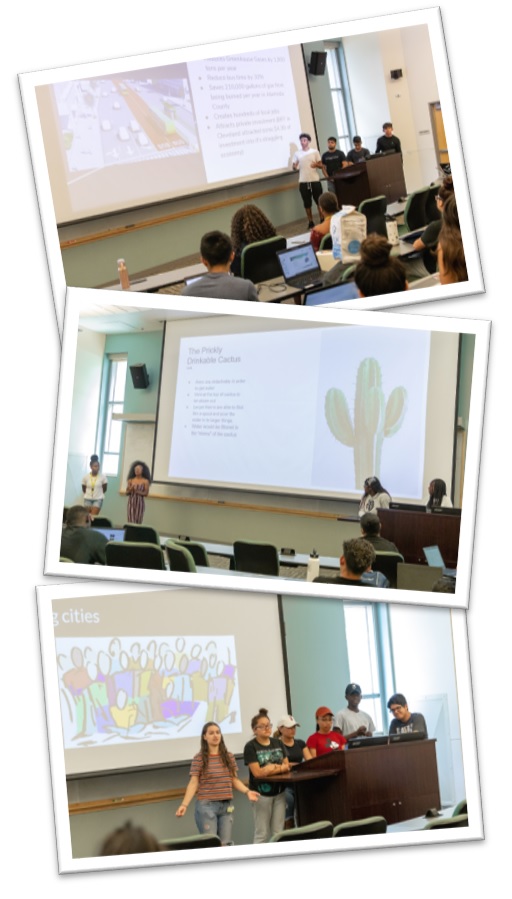 WHAT'S THE BIG IDEA?
Now in its third year at UC Davis, SMASH Academy is a free, intensive college preparatory program for students from traditionally underrepresented communities. Developed in partnership with SMASH, the UC Davis program provides students with rigorous, culturally relevant coursework and access to resources and social capital, allowing them to pave a successful career path in tech and entrepreneurship.
Starting in ninth grade and going through three consecutive summers, SMASH scholars spend five weeks living and learning on the UC Davis campus, where they take a variety of unique hands-on UC Davis STEM (science, technology engineering and math) classes – including computer science, design thinking, college preparation, science and mathematics -- and choose from engineering and veterinary medicine electives to enhance their personal academic interests and goals year-'round.
SMASH IN ACTION
An otherwise quiet summer day on the UC Davis campus found a Gladys Valley Hall classroom abuzz with activity: Student-groups of 30 rising seniors from across the greater Sacramento region were researching real-world engineering-based solutions to sustainability challenges. Guided by Civil and Environmental Engineering Associate Professor of Teaching Colleen Bronner, the class charged students with creating holistic community improvements based on the United Nations Sustainable Development Goals.
"You are the people who are going to be leading – you're talented, motivated and informed," Bronner encouraged class members. "I'm so impressed by your college-level research and input. We need you to be engaged!"
An enthusiastic audience of SMASH scholars, CEE faculty and graduate students then welcomed innovative student action-item group presentations on:
Increasing Sacramento-area bus services to decrease emissions and improve quality of life

Reducing deadly Chernobyl nuclear radiation by speeding up the half-life decay of neutrinos

Burning carbs instead of carbon with a Northern California app-based bike-sharing program

Feeding people experiencing homelessness in Santa Rosa via a multi-pronged community resource plan

Creating harvested rainwater oases for desert-based communities with pumps based on cactus structure

Providing green-energy access to rural communities with sun-tracking solar panels on existing cell towers

Employing solar-panel-covered hovercraft for reliable, clean electricity for West African countries.
"The creativity is always what's so cool to see," said CEE Professor Jason DeJong, who attended the student presentations. "It's such a diversity of ideas."
"There are no bad ideas," added CEE Assistant Professor Heather Bischel, who also attended the sustainability-class presentations. "It's important to come up with creative ideas without judgment."
"Before SMASH, I wasn't really focused on issues going on right now, but Dr. Bronner's class brought me the awareness of sustainability: social, economic and environmental," said class member Elisama. "I enjoyed finding solutions to problems going on in my own community." 
"It's important that we not just learn about engineering, but how we can actually use engineering to help our communities," added SMASH scholar Tsadi.
CONNECTIONS TO STEM SUCCESS
And SMASH Academy isn't just about summer: Scholars remain engaged throughout the school year with monthly STEM workshops and academic programming including SAT preparation, college counseling, financial-aid workshops and other activities to ensure continued academic success. The program not only reinforces students' STEM academic identities, but also focuses on developing their critical thinking, social justice, civic awareness, leadership and sense of social responsibility.
"I've really enjoyed the past few summers with SMASH," said scholar Bianca. "I built bonds with students and faculty here as we shared ideas together – we have fun, but we're also serious about our work."
"The whole entire experience exposes us to many opportunities," added SMASH scholar Faroz. "Even though we're young, we can still have an impact!"
For more information on the UC Davis SMASH Academy, please contact SMASH Academy Site Director Kimanh Truong-Muñoz or the UC Davis Undergraduate Admissions SMASH Office.  
Primary Category