UC Davis Professors Organize First International Workshop on Bio-Inspired Geotechnics
By Noah Pflueger-Peters
An easel with the words "Bio-Inspired Geotechnics" pointed visitors towards a cozy room with wooden walls, a deep green patterned carpet and rows of tables and chairs at the Alisomar Hotel and Conference Grounds in Pacific Grove, CA. A melting pot of experts with research interests as diverse as geotechnical engineering, termite burrowing, tree physiology, granular physics and soft robotics slowly trickled in from across the country and around the world for the First International Workshop on Bio-Inspired Geotechnics May 19-22.
The NSF-funded workshop, the product of a year and a half of planning by UC Davis civil and environmental engineering professors Alejandro Martinez and Jason DeJong, brought together 60 experts from engineering and science research, as well as industry, to foster dialogue and collaborations to better establish the field of bio-inspired geotechnics.
"I think everyone was really excited to be in a room with people who they would've never talked to otherwise," said Martinez. "The event may have opened the door for interactions between people who had never talked to a geotechnical engineer or a biologist before."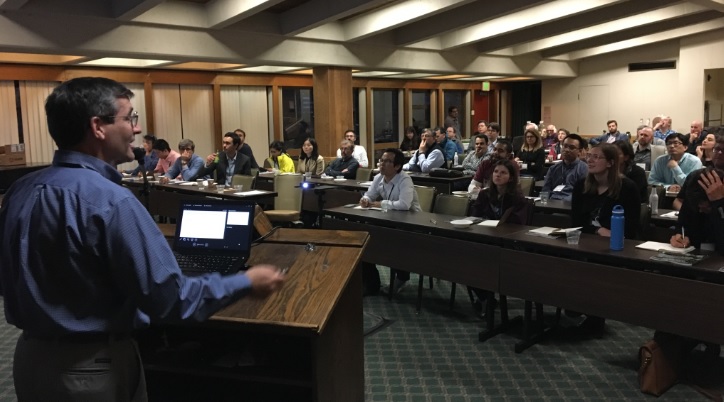 Inspired by biology
Bio-inspired geotechnics turns to biology for inspiration to solve problems in geotechnical engineering. Studying the ground is no easy task—geotechnical engineers have to account for the extreme variability of soil conditions to make sure that infrastructure is safe, even during extreme events like powerful earthquakes. Building underground involves even more challenges, including drilling through hard and variable terrain and building structures that are difficult to access later for repairs or rescue, if necessary.
Nature has already developed ways of dealing with these problems, as evidenced by animals and plants that burrow extremely efficiently in the soil. If geotechnical engineers, biologists and roboticists can work together, they can create biology-inspired stabilizing systems, sensors and geologic exploration methods to effectively design, build and maintain modern infrastructure.
At the intersection of science and engineering
Over the three days, attendees broke into diverse working groups to solve real-world problems and were treated to lectures from experts in each field that explained cutting-edge developments, as well as challenges, in their fields.
"I've found the interaction between engineers and scientists to be really beneficial," said Martinez. "We have very different ways of addressing problems. Constant contact with the other side brings a better perspective."
The workshop encouraged an open, friendly and collegial environment, as attendees seemed excited to be part of something so new and so interdisciplinary. Conversations continued before and after lectures, and even at meals, as the attendees picked each other's brains about their research, their fields and their approach to problems, freely exchanging ideas.
"It feels momentous," said Matt Burrall, a Ph.D. student working under Jason DeJong at UC Davis. "It's an excellent opportunity to hear about things that you would generally not be in the right place or the right time to hear."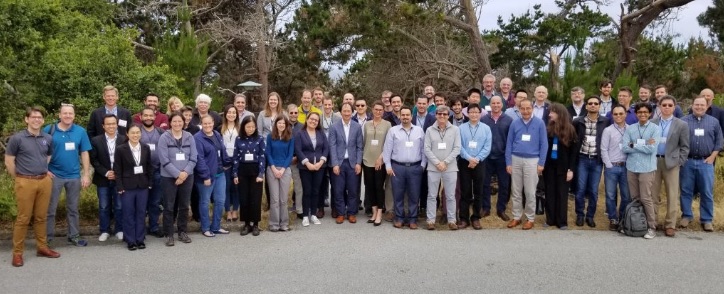 A developing field
The field of bio-inspired geotechnics has existed for less than a decade. Its inaugural paper was published in 2010 and just five years later, the NSF funded the Center for Bio-Mediated and Bio-Inspired Geotechnics (CBBG). The center involves four institutions—UC Davis, Arizona State University, Georgia Tech and New Mexico State—and in its first four years, has produced over 150 publications and involves 30 faculty and 50 graduate students across these institutions.
The newness of the field also means that there are challenges to be overcome, like a lack of common vocabulary and no solid definition of what "bio-inspired geotechnics" really means. This is crucial not only for collaborating between fields, but also in training new faculty and students interested in bio-inspired geotechnics. The last day of the workshop was spent brainstorming this issue, as well as how to fund proposals.
The workshop will culminate in a paper co-authored by all the attendees that summarizes the workshop's achievements and will be published in a leading geotechnical engineering journal. The biology attendees are also planning on writing a similar paper for a biology magazine from the other perspective.
"I think many collaborations are going to come out of this workshop," said Martinez. "I saw people talking and organizing visits to each other and talking about potential proposals they can write."
The attendees leave the workshop to explore different avenues in this new field. As the field evolves, the First International Workshop on Bio-Inspired Geotechnics could be the spark for more and larger-scale activities and workshops that help the scientists and engineers connect to realize bio-inspired solutions for infrastructure challenges.
"Bring this diverse group of people together for a few days to explore what the future of bio-inspired geotechnics was an experiment in itself," said DeJong. "It was very stimulating and enjoyable, so I'd say it points toward promising future."
Primary Category